Decapsulation is the process of removing or exposing an integrated circuit (or the insides of a potted module) for further analysis. We do this routinely for our reverse engineering projects and for customers who lack the equipment and chemicals to do it themselves.
For integrated circuits, the first step is to access the silicon (or other semiconductor) die by removing or cutting a hole in the epoxy case, exposing the die. This is usually done with a combination of heated acids directed at the package to dissolve it. Occasionally, for large or easily damaged parts, a portion of the package material may be removed by machining a well above the die, making the exposure to acid shorter. Alternatively, the die can be completely removed from the package and lead frame with a combination of strong acids. For metal/ceramic packages, the package lid can be removed by heat or by shearing the ceramic at the seal line. If done correctly, one can have a fully functional chip after decapsulation, allowing for active probing of the die surface and examination of wire bond integrity.
Shown below are examples of decapsulated chips. The one on the left is a ceramic packaged device whith the lid removed and the one on the right is a plastic package that has had a hole etched down to the silicon die.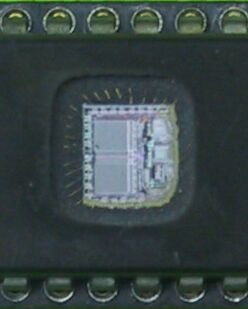 Integrated circuits retain their functionality after this process, so the device can be examined with power applied to locate hot spots (due to faults) or imaged in a scanning electron microscope with power applied (a technique called voltage contrast) to locate defects or to trace device interconnections.
We also decapsulate hybrid potted modules that have been potted either with cured silicone rubber or epoxy. For silicone rubber, depotting is usually done in a special solvent that softens the silicone and causes it to release from the potted circuitry. For epoxy encapsulated devices, there are several solvents that can be used, depending on the chemical makeup of the potting compound. Usually the device or module must soak in the solvent at elevated temperaturs for seeveral hours before the potting material starts to soften.
For further information, please don't hesitate to
contact us.